By Hiroyuki Arie, General Manager, Business Stream Systems at TÜV Rheinland Japan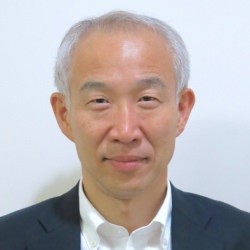 Twenty years have passed since the 1996 establishment of ISO 14001, the standard for environmental management systems (EMSs). By now, there are over 25,000 ISO 14001-certified organizations in Japan. This is second only to the number in China, and demonstrates that the concept of the environmental management system has deep roots in the country.
The number of organizations registered in Japan under the ISO 14001 standard peaked in 2009 at 39,556 and tended to decrease for a while thereafter. However, the figure began to increase again in 2013 and so far has continued to rise.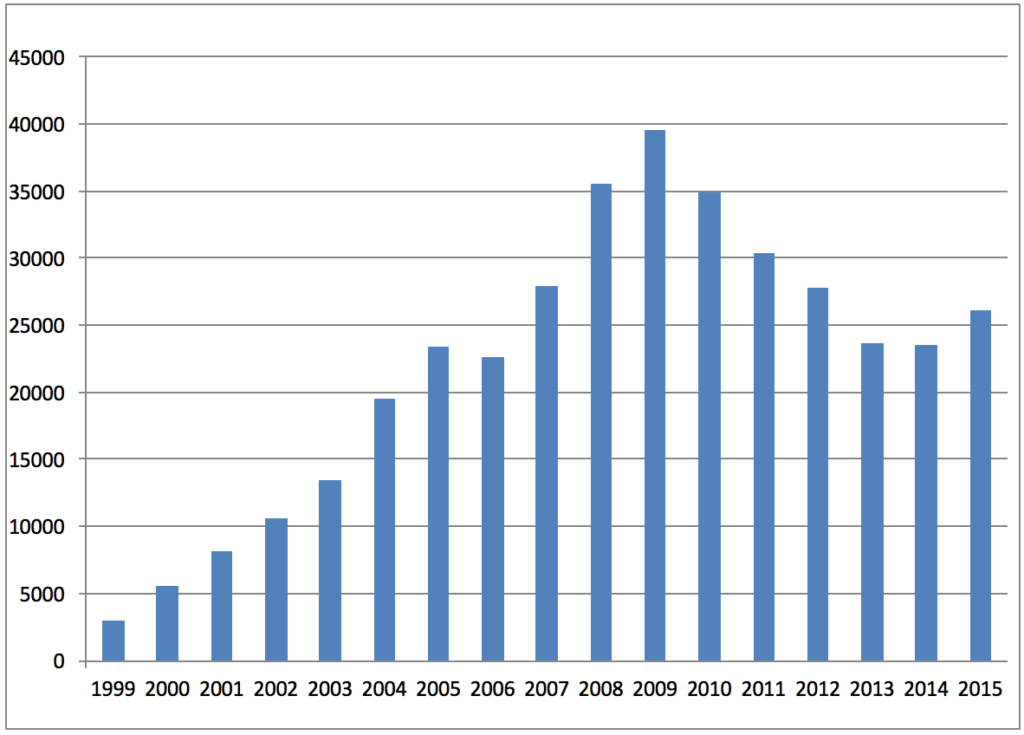 Chart: Number of organizations registered in Japan under ISO 14001. Prepared from ISO.org "ISO Survey 2015" data
According to the Japan Accreditation Board, the highest number of industries with certificates are the "Construction" and "Basic metals and fabricated metal products" industries, followed by "Wholesale and retail trade; Repair of motor vehicles, motorcycles and personal and household goods" and "Electrical and optical equipment." If we take a broader perspective on ISO 14001-certified organizations in Japan, we see that the EMS is most widely accepted by companies in manufacturing, including machinery, electrical and electronics, metal and chemical production.

Chart: Certification according to ISO 14001 in Japan by industry. Based on statistical data from the website of the Japan Accreditation Board (as of Jan. 23, 2017). © JAB This graph cannot be reproduced in any form without permission. Translation to English was done by TÜV Rheinland Japan Ltd.
The background of the wide acceptance in Japan
After ISO 14001 went into effect in 1996, the number of organizations registered under this environmental management system standard in Japan increased rapidly. Japan boasted the world's number 1 position until 2007, when it was overtaken by China.
The reason for this extensive spread of ISO 14001 certification was that many Japanese companies had been making strenuous efforts to respond to growing worldwide awareness of the importance of the environment and had become aware that ISO 14001 certification was crucial to doing business in foreign countries, too.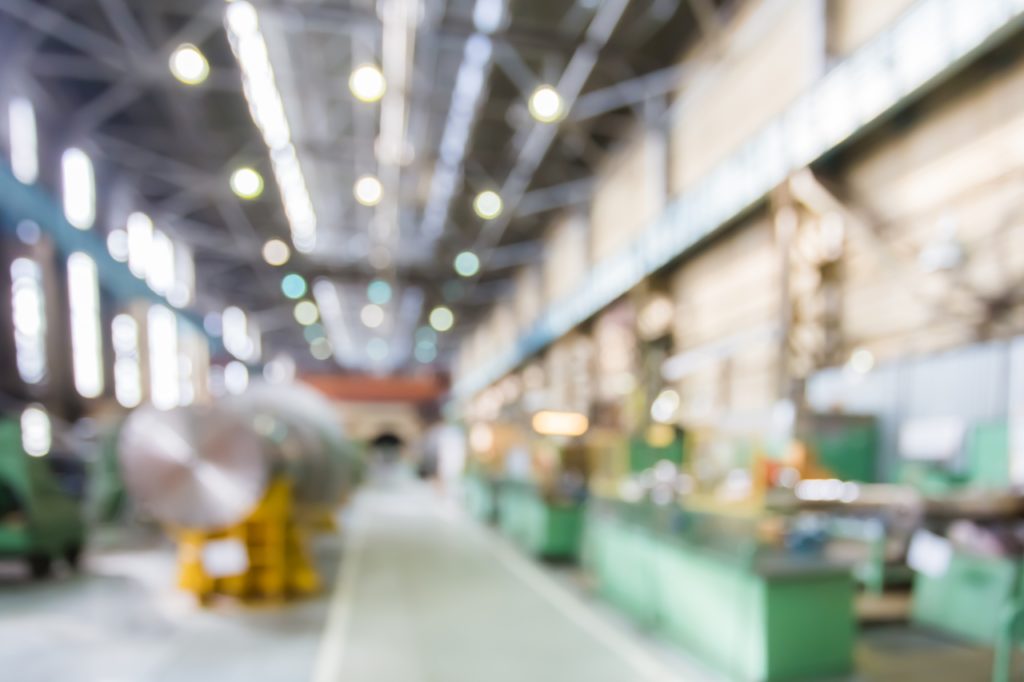 Photo credit: johan.lebedevski/ Shutterstock.com
On the other hand, back in 1987, when ISO 9001 first came into effect, many manufacturing companies in Japan showed little interest in this quality management system standard. This was partly because many Japanese companies at that time were complacent about the quality of their own products, manufactured under Japan's existing Total Quality Control (TQC) system. The number of ISO 9001-certified organizations in Japan did not increase. As a result, Japan fell behind the worldwide quality management trend. Learning their lessons from this failure with ISO 9001, Japanese manufacturing companies led the world in obtaining ISO 14001 certification.
At present, many Japanese manufacturers are requesting their suppliers to establish effective EMSs in their own companies as a requirement of doing business. Therefore, obtaining ISO 14001 certification has become important for suppliers who want to expand their business, or even maintain it.
EMS standards other than ISO 14001
Although ISO 14001 is the most popular EMS standard in Japan, there are also some EMS standards that were created here in Japan, including Eco Action 21 (EA21) and the Kyoto Environmental Management System Standard (KES). They are basically intended for use by small and medium-sized enterprises. These standards are simpler and less expensive to apply than ISO 14001, and this facilitates the third-party certification of smaller businesses.
There are 7,690 EA21-certified organizations (as of the end of December 2016) and 4,657 KES-certified ones (as of the end of March 2015), suggesting that these standards have been widely accepted in Japan.
Since EA21 and KES are popular in Japan, some Japanese manufacturers treat them and ISO 14001 equally, but these Japanese EMS standards are almost unknown outside Japan. Therefore, ISO 14001 certification, being an international EMS standard, is the choice for many Japanese businesses operating worldwide.
EMS standards in the future
In the past 20 years, many Japanese manufacturing companies have been implementing environmental management activities according to the requirements of ISO 14001, with good results. They succeeded in reducing energy consumption and the amount of waste in factories, as well as preventing pollution, by strictly controlling chemical substances. They also took a variety of measures to comply with various laws and regulations, inasmuch as compliance with statutory requirements is emphasized.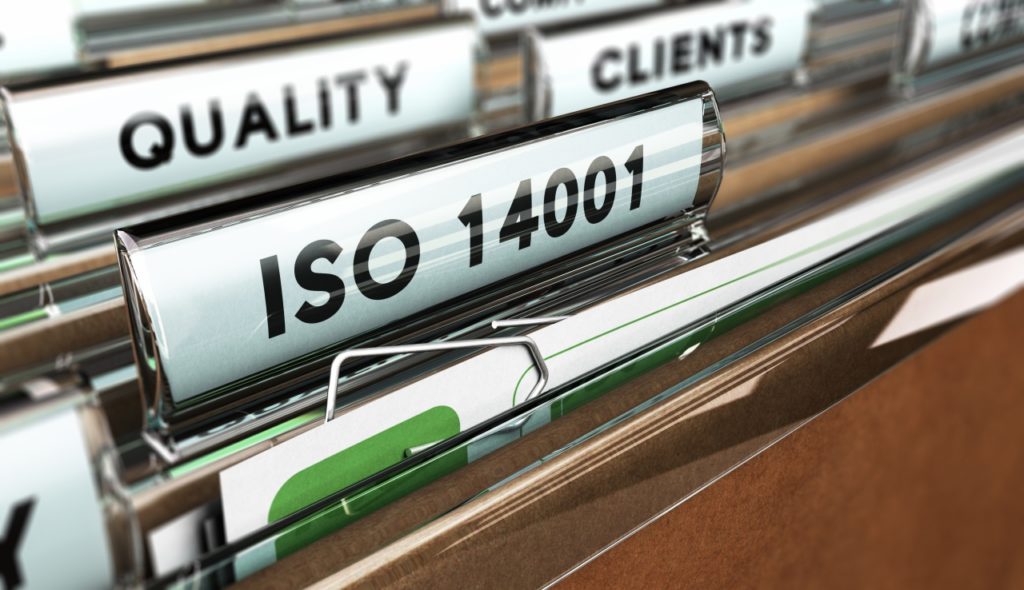 Photo credit: Olivier Le Moal/ Shutterstock.com
What must be done to make the environmental management system of organizations even more ecologically and economically responsive? One point is to shift the focus from the implementation of environmental management at individual worksites, including factories, to company-wide strategic planning processes and to the top management levels.
The revised ISO 14001:2015 standard requires top management to "ensure that environmental policies and objectives are aligned with the strategic direction of the organization." That is, top management must make environmental management a recognized strategic planning factor within their organization. They need to become aware that a risk to the environment may become a risk to their organization and that protection of the environment will lead to organizational growth.
It could be said that environmental management is reaching a major turning point, from its role in preventing environmental pollution to one of defining the growth strategy of the organization.
Photo on top: CHOAT photographer/Shutterstock.com