People working in Japan are not happy with their pay, and they are increasingly motivated by money. These are the key findings of the recently published 2018 Hays Asia Salary Guide, which underscore the major shift away from lifetime employment and seniority-based pay that is happening in Japan right now.
Indeed, "less than 10 percent of workers aged 40-45 have changed employers, yet more than half of those under 35 have already worked for more than one company," said Marc Burrage, managing director at Hays Japan, during his presention of the recruitment specialist's findings.
Salaries Increase Only Slightly
Contributing to this unhappiness is the slow pace of salary increases in Japan, where 13 percent of employees did not receive an increase in 2017 and 59 percent saw their pay rise by only up to 3 percent. This compares lowly to other Asia, where salaries were up 3-6 percent for 40 percent of the workforce and surged more than 6 percent for a quarter of all employees.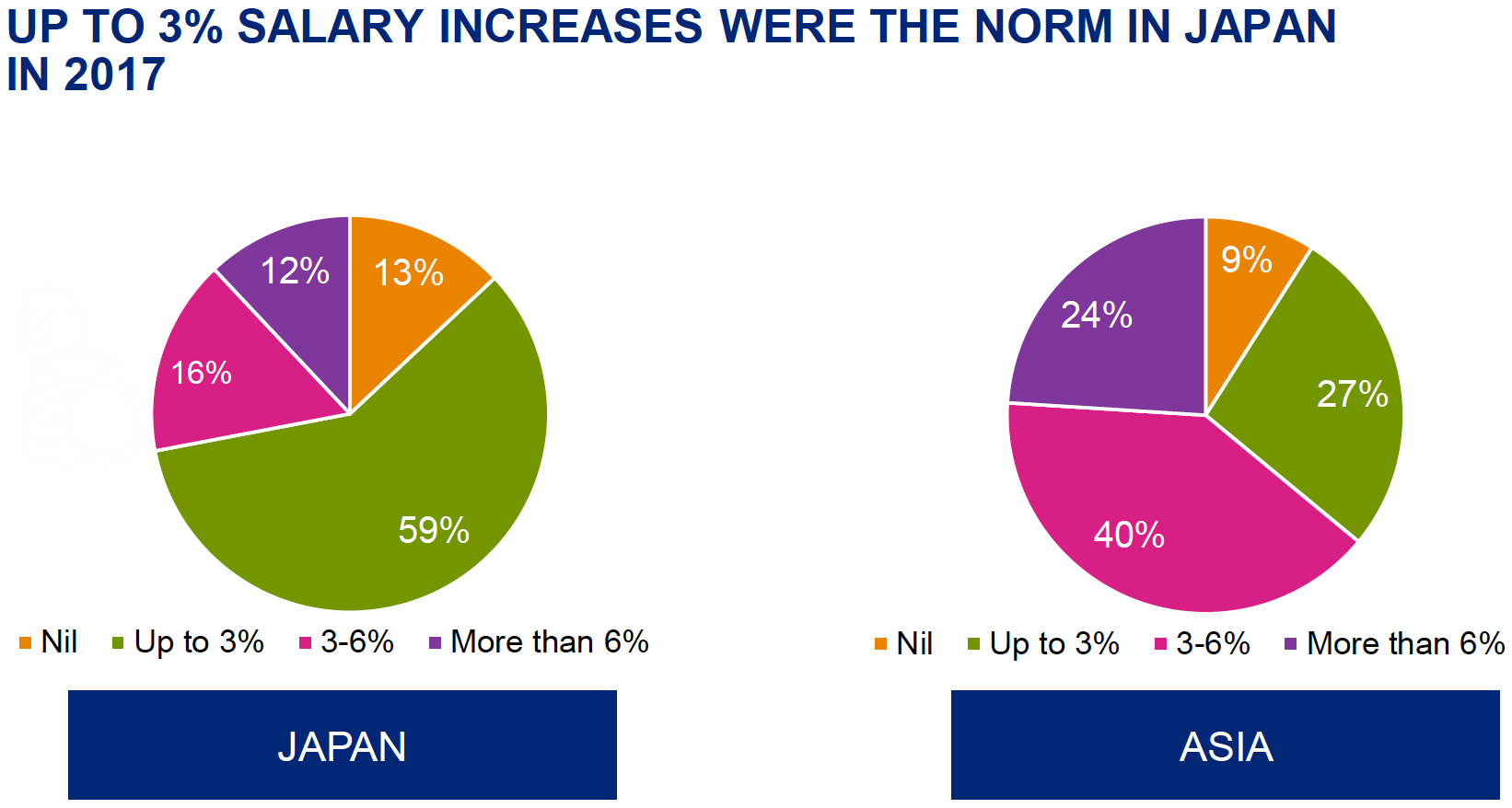 According to Burrage, tensions are inevitable to rise in Japan, as a substantial mismatch exists between employees and employers: while 22 percent of workers expect their salaries to increase by more than 6 percent, only one-tenth of all employers actually plan to do so.
Money is Becoming a Key Motivator
Money is rapidly becoming a serious motivator for people seeking a new job. The number of respondents who state "salary or benefit package" as a reason for being on the lookout has been surging by 20 percent to 57 percent in just the last two years. It has now become the second most important reason to look for greener pastures.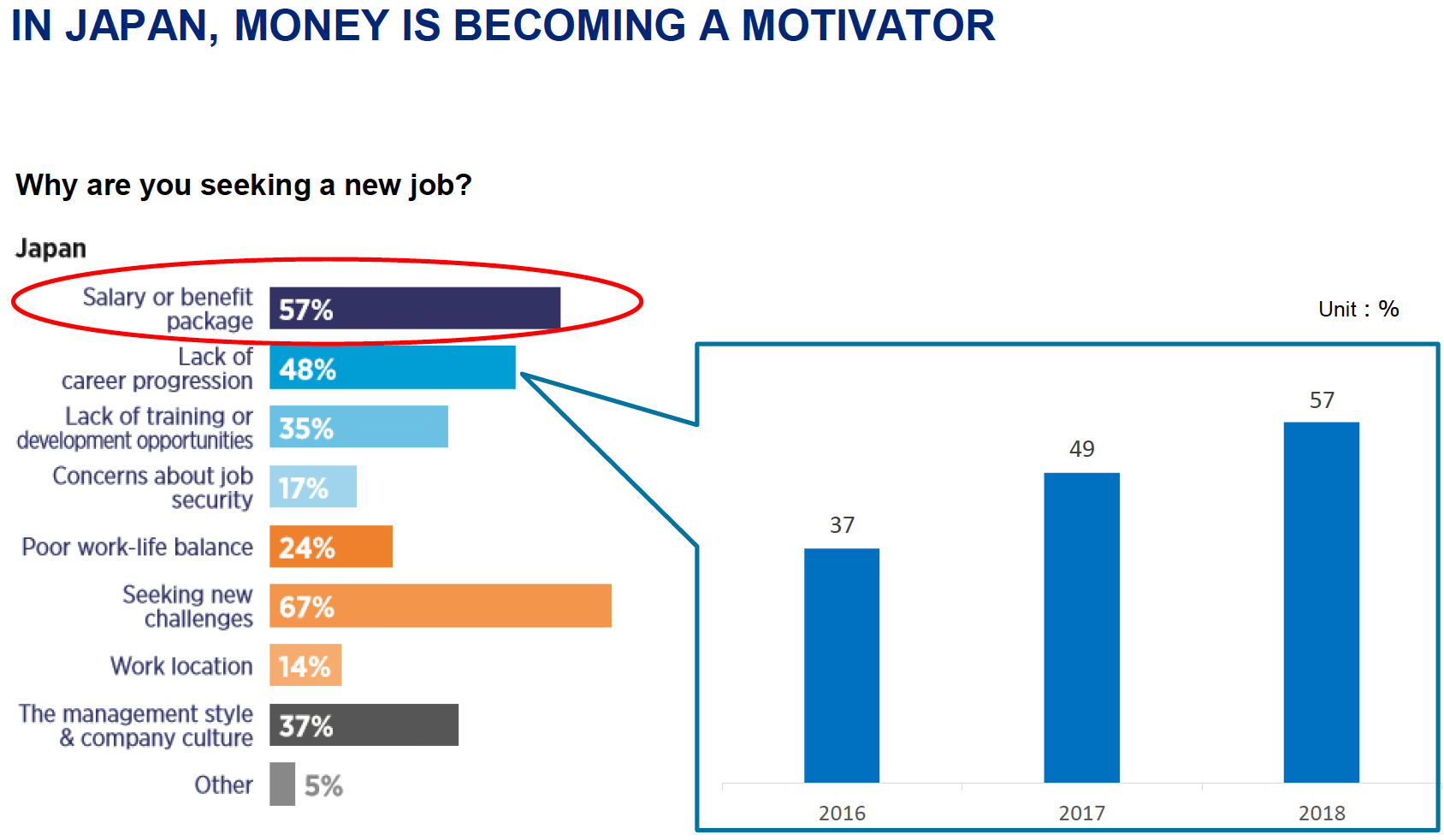 In addition, the number of Japanese employees unsatisfied with their salary has increased 11 percent since last year to a record 64 percent.
"If these expectations are not met, the disconnect between employees and employers will continue to widen," said Burrage. "This will lead to a lack of engagement, which in turn will result in lower productivity and higher staff turnover."
Global Race for Talent is On
At the same time, labor markets are becoming increasingly international. In the past, firms could concentrate on recruiting locally. Nowadays, high-performing employees are open to work abroad – and firms are forced to consider regional and global developments to find the talent they need, too.
Japanese firms pay more for junior jobs than other countries in Asia, but less for highly-skilled and management positions. While this is an effective measure to combat income inequality in society, it also makes competing globally more difficult.
This is especially true for fields that determine future competitiveness: Engineers working on autonomous driving in the U.S. earn double that of their peers in Japan, for example; and Hong Kong and Singapore significantly outpay Japan for engineers working on AI and Deep Learning. "In a global market place, Japan is subject to global forces – whether it likes it or not," said Burrage.
Download the full Hays Salary Guide 2018
here
.
Japanese Employment and Salary Trends by Industry
Accountancy & Finance
The Japanese market is facing continuing candidate shortages of qualified, bilingual finance professionals. According to Hays, 2018 will see more global firms move toward a leaner finance structure. This will open opportunities for all-rounders that can cover both FP&A and financial control duties. Abilities to read and write in English with clients and headquarter colleagues will become more important.
Hays expects salaries at Japanese companies to remain relatively low. Accordingly, many high-performing candidates should prefer joining multinationals for their higher pay packages. Bilingual candidates who started their career with Big Four audit firms or holding CPA qualification should be able to secure high salaries in 2018.
Financial Director/CFO: 10–30 million yen
Finance Manager: 8–14 million yen
Financial Analyst: 5–12 million yen
Digital Technology
Japan's growing digital technology sector experienced rapidly increasing hiring levels in 2017, yet Hays does not expect salary levels to grow markedly across AI, big data, IoT, cloud, cyber security, and web and mobile. However, the company predicts significant demand for consultants with skill sets in AI (chainer, Tensorflow and Keras), big data (Hadoop, Spark and NoSQL) and cloud technology (AWS, GCP and Azure). Moreover, mobile application engineers with Java (Android) and Swift/Embedded C (iOS) will continue to be in high demand. These groups can expect salary increases over the next year.
Hays also expects the FinTech industry in Japan to grow in 2018. Mobile applications are becoming a common source of payment method, making candidates with blockchain engineering backgrounds highly sought after.
The gaming industry continues to look for both frontend and backend Game Developers as well as UI/UX Designers and UI/UX Producers and is willing to pay premiums for experienced professionals.
Front-end Developer: 5–12 million yen
Web Designer: 4–8 million yen
Data Scientist: 8–12 million yen
Cloud Architect: 8–13 million yen
Information Technology
The recruitment needs of the enterprise technology and digital sectors will also continue to rise in 2018, according to Hays. With organizations across pharmaceutical and manufacturing increasing investment in IT and ERP systems, demand for IT consultants and project managers is on the rise.
Within the IT consulting sector, demand for Strategy Consultants and other highly skilled professionals is outpacing supply. Hays expects that it will be challenging for employers to fill mid-career positions due to fierce competition and a lack of diversity in the Japanese market.
Analyst Programmer: 8–12 million yen
Data Architect: 10–15 million yen
Development Team Leader: 9–15 million yen
Systems Administration: 7–14 million yen
IT Manager: 11–16 million yen
Project/Program Director: 12–16 million yen
SAP Analyst: 11–15 million yen
Life Sciences
Hays expects Japan's life science recruitment market to continue being extremely active throughout 2018. While salaries were modest in the past, the company sees a noticeable growing demand for specialized expertise that will exert upward pressure for many positions.
Traditional Japanese drug makers are also undergoing globalization efforts to make sure they remain competitive in an increasingly international market. This in turn drives up demand for bilingual candidates, which is slated to stay strong.
Overall, Hays sees Japan to remain a very attractive market for medical devices, pharmaceutical industries and CROs, which will see intensifying competition for talent in 2018 and positively impact salaries for people with the right experience.
Country Manager: 19–30 million yen
Sales Director: 12–20 million yen
Medical Rep: 6–12 million yen
Product Manager: 8–14 million yen
Marketing Director: 14–25 million yen
Marketing Manager: 10–14 million yen
PR/Corp Comm: 8–15 million yen
Medical Affairs Director: 15–35 million yen
Medical Affairs Manager: 12–25 million yen
Clinical Research Director: 14–25 million yen
Manufacturing
The vast majority of newly-built cars in Japan is already based on e-mobility. This ties into industry trends, which see global sales for electric vehicles grow from currently 3 percent of all cars to 20 percent within the next seven years.
Japanese manufacturers are at the forefront of this development and have been showcasing electric designs at motor shows around the world this year. Unsurprisingly, demand is on the rise for people with relevant skill sets such as electrical engineers and will continue to increase throughout 2018, according to Hays. In an effort to cope with greater competition, some employers in Japan will also be open to hire engineers from other industries.
Other areas of demand in the automotive industry include engine component engineers to work on vehicle bodies and interior design. At the same time, demand for mechanical engineers is falling.
Meanwhile, the semiconductor industry is strengthening after a decade of decline. Hiring is steady at leading foreign manufacturers but remains tentative among Japanese firms; salaries remain flat.
Overall, Japan's manufacturing industries including the chemical industry face a shortage of candidates. Employees must juggle multiple projects and managers must turn to young colleagues to get things done. Compounding these difficulties, says Hays, is the fact that most companies are restricted to hiring Japanese candidates only.
Automobile–Engineering Manager: 9–12 million yen
Automobile–Engineering Director: 12–20 million yen
Automobile–R&D Manager: 8–10 million yen
Automobile–R&D Director: 12–18 million yen
Automobile–Sales & Marketing Manager: 8–12 million yen
Automobile–Sales & Marketing Director: 10–25 million yen
Marketing & Digital
2018 will see major security companies focus on strengthening their marketing teams. People with digital marketing experience, a passion for FinTech and strong language skills will be in demand. Hays expects such candidates to command 30-40 percent salary increases when moving jobs.
With regard to consulting, several major firms focus on increasing brand awareness as part of their drive to expand. These firms continue hiring for event planning, strategic marketing and branding positions. Digital marketing will continue to be important in fashion and retail, where major brands have launched online stores and are driving demand for e-commerce and digital marketing talent.
Hays predicts continued growth for marketing and communications positions, in addition to a greater need for bilingual candidates with knowledge of digital and lead generation activities. Overall, growth in digital marketing outstrips traditional marketing, especially as PR and advertising budgets are cut back and work is outsourced. At the same time, traffic acquisition and lead generation will continue to grow in importance and will create strong demand for SEO/SEM specialists, driving up salaries.
Marketing Director: 12–20 million yen
Global Brand Manager: 10–15 million yen
Advertising Account Director: 10–15 million yen
Creative Director: 7–12 million yen
Communications Manager: 7–15 million yen
Market Research Director: 8–12 million yen
Digital Marketing Manager: 8–15 million yen
Head of Digital Transformation: 12–20 million yen
Sales
The shortage of native Japanese-speaking sales candidates is set to increase in 2018, according to Hays. As last year saw high staff turnover in the e-commerce space particularly at associate to manager level, upward salary pressure in a very job rich market is fueling high staff attrition rates.
Online and e-commerce sales people remain in demand as new businesses continue to set up operations in Japan. Business development and sales representatives able to help companies build market share are in strong demand.
Direct and new business sales positions are also proving difficult to fill due to the high level of Japanese language skills required from candidates. Many employers struggle to fill roles vacated by retirees. Candidates taking a consultative sales approach are more in demand than ever before to help technology companies shift their sales focus from products to solutions.
As more and more companies set up offices in Japan to increase customer service, demand and salaries are increasing for country managers with strong networks and technical expertise.
Country Manager: 15–50 million yen
Regional Sales Director: 15–25 million yen
Sales Director: 15–25 million yen
Business Development Manager: 8–20 million yen
National Sales Manager: 12–18 million yen
Sales Operations Manager: 6–10 million yen
Top visual: Hays Japan Managing Director Marc Burrage talks to journalists in Tokyo