Collaborative robots can be the next big thing – and robot market leaders ABB and Kawasaki Heavy Industries are moving quickly to make that happen. Just a few days back, the two heavyweights announced in Tokyo a formal cooperation. Shortly after, also in Tokyo, ABB launched its latest YuMi collaborative robot at iRex International Robot Exhibition 2017.
Also known as cobots, these sophisticated helpers look different from how most people imagine a robot: Neither do they resemble the iconic Bender from Futurama, nor are they like industrial robots that power modern assembly lines.
They need to be different, because they are designed to physically work together with humans in a shared workspace. This so-called collaborative automation allows people and robots to each contribute their unique strengths – people offer process knowledge, insight and improvisation for change, while robots offer tireless endurance for repetitive tasks.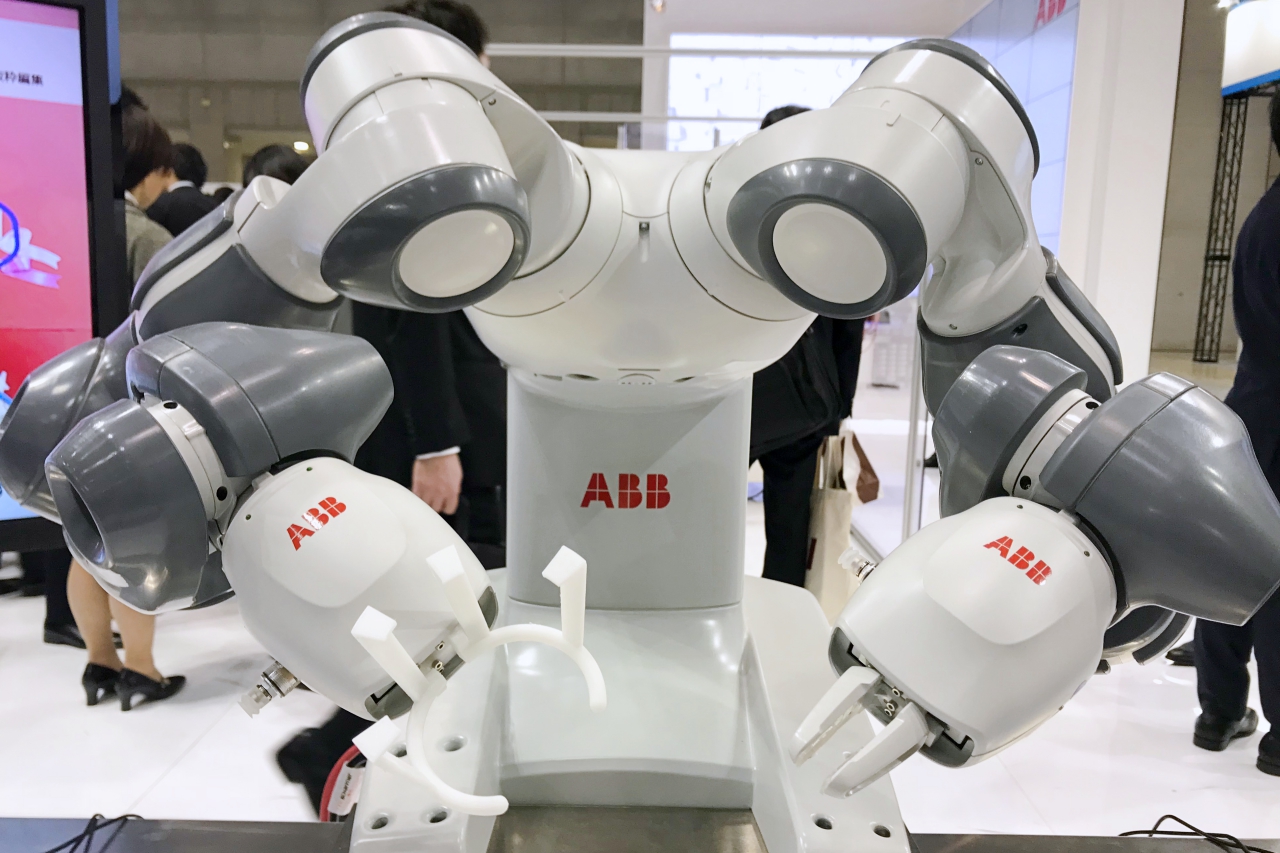 ABB's YuMi cobot
To work closely together with humans, cobots need to meet three requirements.
(1) Cobots need to be inherently safe
Many industrial robots operate regardless of their surroundings. Human bypassers are well advised to keep a safe distance. Cobots on the other hand have to be "inherently safe." They have sensors that make them slow down or even stop what they are doing immediately if they realize that humans are too close. Their exterior is rounded and does not feature any sharp parts. End-of-arm tooling is crucial, too. Grippers must be designed in a way that they have enough power to do their tasks, but are incapable of hurting flesh and bone. And as any robot with too much weight is inherently dangerous, cobots must be relatively small and light-weight. Safety really is crucial, as humans will not accept working close by robot colleagues that may harm them.
(2) Cobots need to be mobile
Being mobile is important because the future of cobots does not lie in large factories, but in small and midsized companies (SMEs) and service sector environments. The smaller a cobot's footprint and the lesser its weight, the more flexibly it can be moved around to collaborate with its human partners. This requires cobots to be relatively small, too.
(3) Cobots need to be easy to use
Telling an anecdote during the launch of the new YuMi cobot at iRex 2017 trade fair in Tokyo, ABB Robotics Managing Director Per Vegard Nerseth said that he vividly remembers talking to a bakery owner a few years back. After discussing how the use of a robot could help the bakery's business, the owner got interested. Yet after hearing that staff would need to be trained for about one week, that interest rapidly vanished. Accordingly, intuitive programing and operations are a requirement for cobots to become a mass phenomenon.
Amazing growth potential
Robot makers are just on the verge of making these three requirements a reality. According to ABI Research, with around 3,000 units sold for about $50 million, the market for cobots was still relatively small in 2015. This has grown to an estimated 8,000 units worth $200 million by 2017 and is projected to grow to over 40,000 units exceeding $1 billion in revenues by 2020. "The scale and pace of change in the robotics industry today is unimaginable," said Nerseth. He expects that the market for cobots will in just a few years be as large as the industrial robot market is today.
This has multiple reasons. On the one hand, the Internet of Things allows manufacturing to shift to low-volume, made-to-order production at shorter cycles. This means smaller and more flexible manufacturing floors with an increased need for human and robot flexibility. As Japan's Industrial Value Chain Initiative (IVI) is defining boundaries, ABB's partner Kawasaki Heavy is among the organization's steering committee members.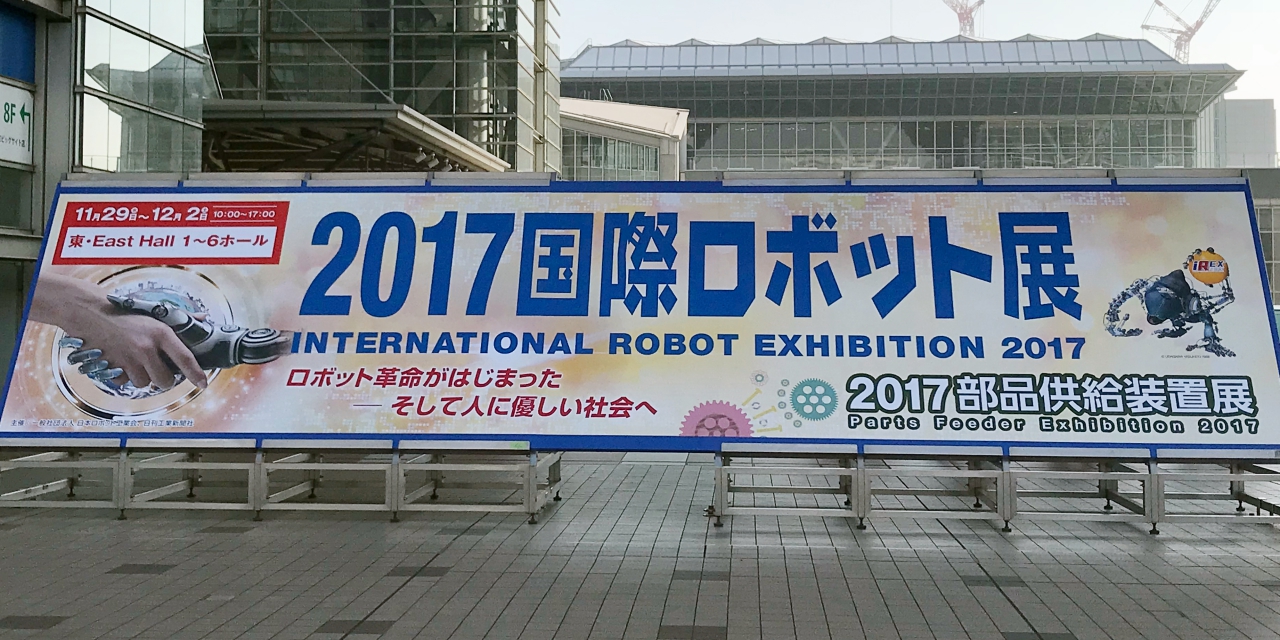 At the same time, the industrialized world is facing critical labor shortages because of its ageing societies. Japan's labor force for example is projected to decrease from 77 million in 2015 to 45 million people in 2065. Besides fewer people, this also leads to a loss of skills due to retirement – coming on top of the serious talent mismatch Japan is already facing today.
Cobots offer the perfect solution to fill this gap if they are accepted by the humans they closely need to work with. As robot makers succeed in making cobots absolutely safe and intuitive to use, they are facing a bright future. Whereas industrial robots are mostly limited to factory floors, in future we will encounter cobots anywhere in shops, offices, factories of any size, banks, hotels, hospitals or at events – to just name a few examples.
"Collaborative robots, especially those with two arms capable of human interactions, can greatly contribute to society and help the world cope with labor changes and an aging workforce," said Yasuhiko Hashimoto, managing executive officer and general manager at Kawasaki Robot Division.
Why ABB's and Kawasaki's cooperation is important
As the only two firms currently offering dual-arm cobots, ABB and Kawasaki are the front-runners in the field. In April 2015, ABB took the first step into cobot future by launching YuMi, the world's first human-sized collaborative dual-arm robot. Only four months after, Kawasaki followed with its duAro dual-arm cobot. So why do the two main players cooperate?
Both companies recognize that the market is still small but offers tremendous potential. Instead of focusing on a fight over current market share, ABB and Kawasaki have decided that by joining forces now they can grow the market more quickly to help makers and customers alike.
Under the cooperation, both companies will continue independent manufacturing and marketing their own products, but work together on joint technical and awareness opportunities. The planned activities are thought to be especially beneficial to SMEs lacking human resources, which are the backbone of many economies.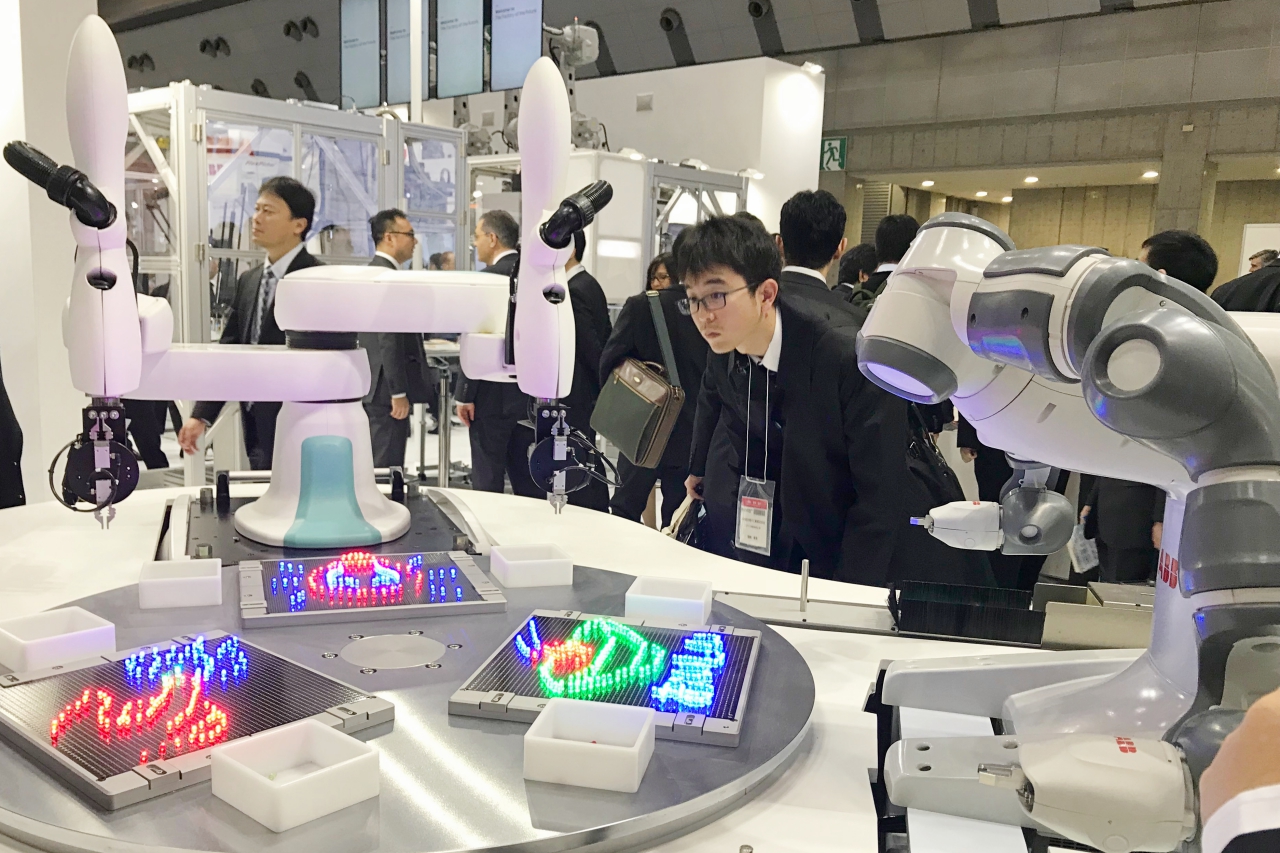 Kawasaki duAro and ABB YuMi cobots work together

As safety is a crucial requirement for the broad adoption of cobots, Kawasaki and ABB will together work toward increasing safety awareness and creating new safety standards. This includes dialogue with stakeholders such as policymakers and NGOs on collaborative norms and standards, but also awareness campaigns within industry and higher education.
In addition, the companies cooperate in the standardization of programming and interfaces to make their collaborative robots easier to use. They also aim to standardize operability, so that customers can use robots of different makers together.
ABB launches new YuMi cobot
Building on the success of its dual-arm YuMi collaborative robot, ABB has unveiled at iRex 2017 in Tokyo a new single-arm member of the YuMi family. The new cobot has a much smaller footprint and a payload of 500 grams. It features lead-through programming, so that operators do not need specialized training.
Sami Atiya, president of ABB's robotics and motion division, and Per Vegard Nerseth hosted the world premiere at ABB's booth. "The success of YuMi has exceeded expectations; it was originally designed for small-parts assembly, but it has turned out to be exceptionally versatile – it can solve a Rubik's Cube, make sushi, wrap gifts and conduct an opera," Atiya said. "The newest robot is a much-anticipated addition to the 'factory of the future,' enabling our customers to grow and thrive in the age of mass customization," Nerseth added.
Why cobot future is especially bright in Japan
As Japan faces a quickly declining birth rate and an aging society, robot technologies will be crucial in solving social challenges such as labor shortages, releasing people from overwork and improving productivity. The Japanese government recognizes this role and mentioned in its revised 2014 Japan Revitalization Strategy a "New Industrial Revolution Driven by Robots" – the Robot Revolution – to make use of robots to improve Japan's productivity, enhance companies' earning power and raise wages.
To achieve this Robot Revolution, the government established a Robot Revolution Realization Council. As a result, since 2015 the government is working toward the following goals:
Japan will fundamentally enhance its robot-creation ability to make it a global robot innovation hub;
Japan will increase the use of robots across the country in an effort to achieve a society with the highest level of robot utilization in the world and to make them part of daily life;
Expecting the spread of the Robot Revolution throughout the world, Japan aims to formulate business rules and standards and work toward global standardization of its standards.
Adding to this, according to Nittsu Research Institute and Consulting there is a fundamental difference in perceiving the role of robots in Japan and Western countries. In Europe, people think that the main constituent of the work is the machine, with humans supporting the machine. Yet in Japan, the main constituent of the work is thought to be the human, while the machine supports the human.
While this is a weakness for standardization and large-scale manufacturing, it is exactly the philosophy on which the broad adoption of cobots will thrive.
And that is why cobot future is especially bright in Japan indeed.
Top visual: Kawasaki's Yasuhiko Hashimoto and ABB's Per Vegard Nerseth announce collaboration in Tokyo