Green driving just got one option richer in Japan. At one of its largest press conferences since introducing the Mirai two years ago, Toyota launched its new Prius PHV plug-in hybrid. The automaker is shooting to sell each month 2,500 of the car it considers to be a key to sustainable mobility.
Consumers nowadays have a broad range of electrified vehicles to choose from. Toyota has just cleared 10 million units in sales of regular hybrids, which across all brands already make up around 45 percent of new car sales in Japan.
The company is planning to jump into mass-producing electric cars in 2020, and has started in December 2014 sales of the Mirai, the worlds first mass-produced FCV fuel cell car.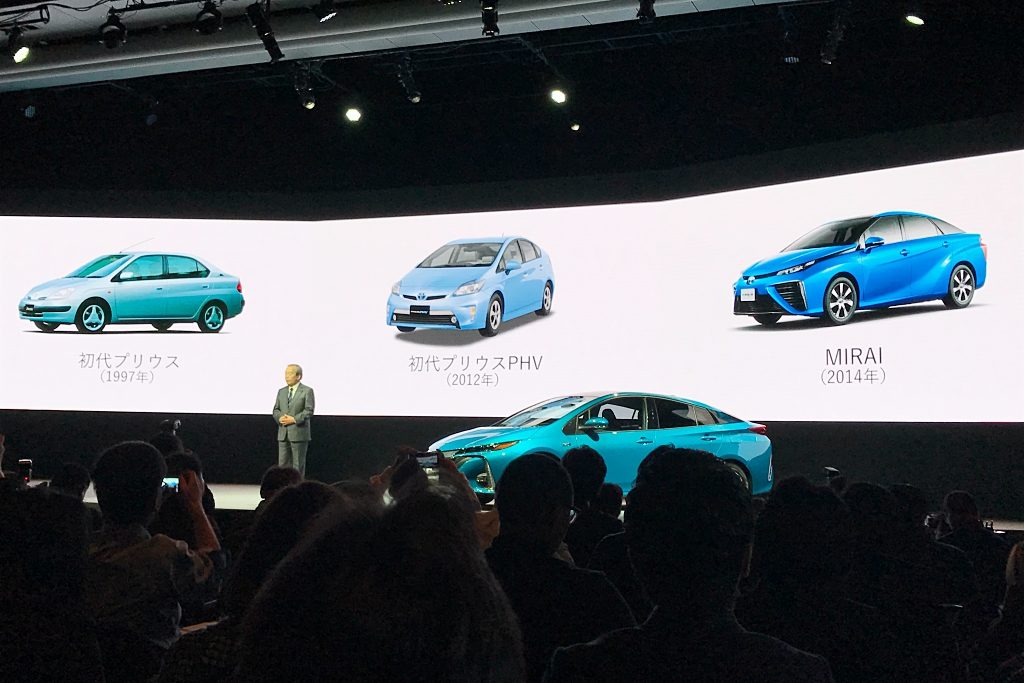 Toyota Chairman Uchiyamada presents new Prius PHV
Interestingly, Toyota Chairman Takeshi Uchiyamada expects all of the mentioned to stay in the market. Different communities have different expectations, and Toyota will develop what is needed. Yet he said that the PHV closes an important gap.
The PHV closes an important gap
Uchiyamada considers FCV's to be the ultimate eco cars. But hydrogen supply infrastructure is still lacking, so they will still need time to break into the mass market. Although EV's are another clean choice, they too need more time due to infrastructure and battery constraints.
The PHV is Toyota's answer, said Uchiyamada. A plug-in hybrid operates as an EV on short distances and can continue to be driven as a hybrid car when the battery is depleted. As such, it provides drivers with ultimate piece of mind considering current infrastructure constraints.
While he expects hybrid sales to dwarf those for PHV's for quite some time, he said that society needs a vehicle like this. And as technical evolution proceeds and technology becomes less costly, he foresees that sales will ramp up quickly. Toyota has already confirmed 8,000 pre-bookings, and monthly sales targets are five times higher than they were for the previous model.
Ultimately, Japan is expected to account for over half of sales volume. The car launched last November in the U.S. with limited volumes and reportedly had a good start. It will be coming to Europe, South Korea and Taiwan in March this year.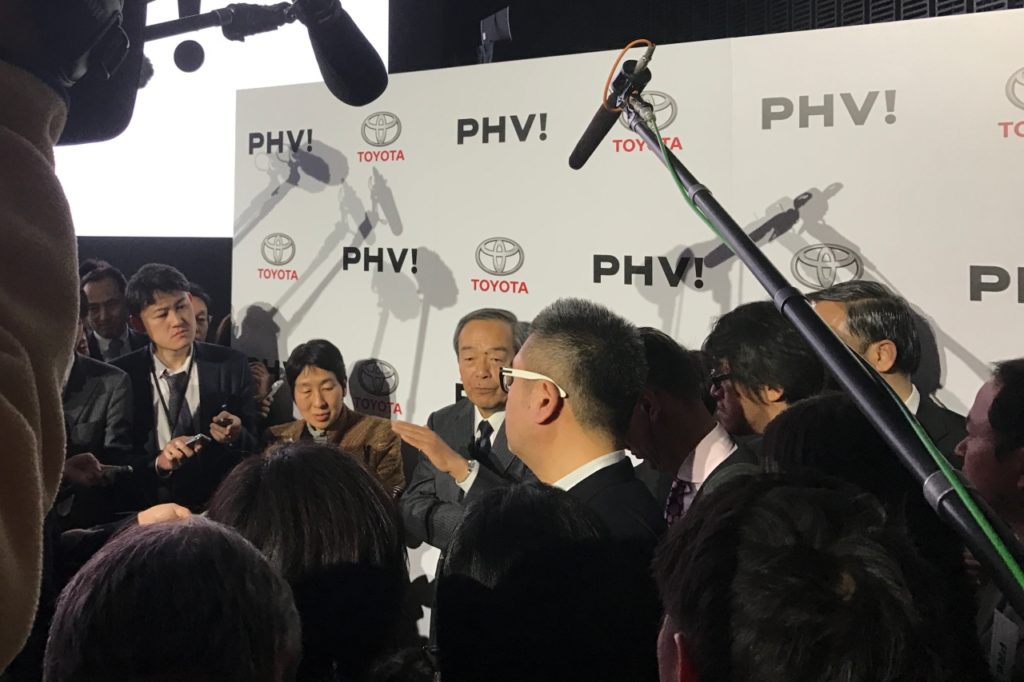 Toyota Chairman Uchiyamada talks to press
Toyota launched the first-generation Prius PHV in 2012 and has so far sold around 22,000 cars in Japan and 75,000 worldwide.
The revamped model improves on its predecessor in crucial areas. Most importantly, the range it can drive in full electric mode has been extended from 20 to 68 kilometers. After the battery is depleted, the car achieves mileage of 37.2 kilometers per liter of gasoline.
The car can be charged at quick charging stations in just 20 minutes or at normal power outlet at home, where it needs about 140 minutes at 200 volts for a full charge. Buyers can choose a solar panel roof to charge their car, the world's first solar charging system in mass-produced cars.
Another treat is the new external power supply function. Even without starting the engine, the Prius PHV can supply household electricity. With its engine running and starting with a full tank, it can supply 1,500 watt of power for up to two days – and thus be a life saver in serious situations such as earthquakes and other natural disasters. Yet the function can also come in handy in normal life, powering barbecues or illumination at night, for example.