Government and ministries strongly guide Japan's science sector. So let us look into the new Fifth Science and Technology Basic Plan that came into force this April, which should lead the path for the country's Science and Technology (S&T) for the next five years. It places a strong emphasis on internationalization. The aim is to make Japan the "most innovation-friendly country in the world."
Pushing S&T: Science and Technology Basic Law and Basic Plans
In the year 1995, the Japanese Government enacted the Science and Technology Basic Law. It expresses the will of the government to promote S&T in Japan and, last but not least, to provide sufficient funds for this goal. Based on this law and starting from 1996, "Science and Technology Basic Plans" are published every five years. They contain concrete measures that should be taken within the time frame.
The initiative sprang from the fact that in the beginning of the 1990s, Japanese industries had reached top levels in technological fields. Japan consequently faced the need to contribute more to problems of mankind by exploring new scientific and technological pastures. The days of just assimilating technologies from the West should end, and be replaced with own basic and applied research.
Impact of the Science and Technology Basic Plans
One important goal of the basic plans was formulating clear targets of spending related to S&T. It was essential to secure the funds needed for Japan to advance toward being a top level research nation. Ultimately, the plans helped reaching this goal and spending increased to an internationally remarkable level of 3.87 percent of GDP in fiscal 2015.
Likewise, the number of researchers and papers published increased. Japan achieved setting up an internationally competitive infrastructure of excellent research organizations. The increasing demand to use scientific findings for society moved academia-industry collaborations into focus.
The fourth basic plan ending just this March, promoted innovation. As a result, collaborations between universities, public research institutes and industry intensified. So did the number of patents and license income.
Deficits in S&T in Japan
While all this sounds very positive, you may ask if there are shortcomings, too? In fact, the development of S&T in Japan is at best stagnating recently. Although research spending is still strong, other countries are rapidly catching up. Besides developing countries, which are now pushing S&T, even countries like Germany or the U.K. have increased their output.
Besides that, human resources for science are at stake. One reason is that the Japanese industry does not employ many people holding doctorates and then mostly only in their research & development departments. In contrast to Germany, for example, such titles are hardly found in the management, and these highly qualified people tend to be limited to find employment in science or education.
As a result, young people prefer not to take this career direction and increasingly less people even want to start a doctorate and become a scientist. My own experience as an external advisor for a new doctoral program at one big Japanese private university provides anecdotal evidence. In fact, the number of young doctoral candidates dropped dramatically over the past years.
The Fifth Science and Technology Basic Plan (2016-2020): Internationalization
Additionally, Japan lacks international networking in the S&T field. The National Institute for Science and Technology Policy (NISTEP) is analyzing and comparing the science sectors of Japan and other countries. Looking at the 10 percent of highly cited papers, the U.K. and Germany are even with Japan and have stagnated over the past 20 years. However, both countries could strongly increase their share of internationally co-authored papers and through that overtake Japan in their output.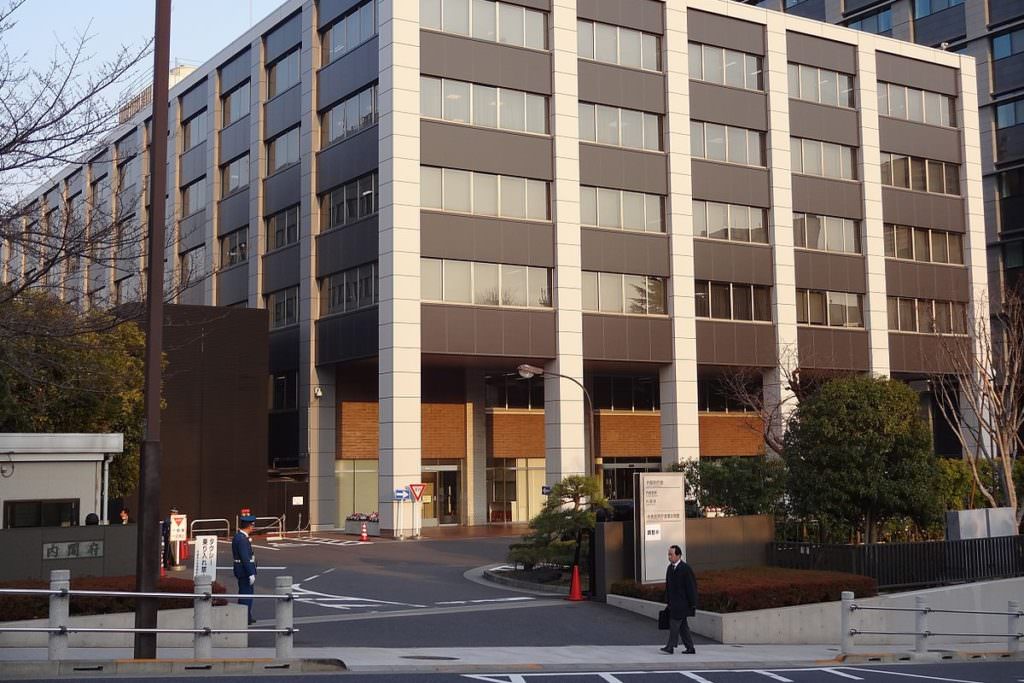 Photo: Cabinet Office in Japan by Yuukokusya via Wikipedia
The Fifth Science and Technology Basic Plan of Japan, which came into force this April, addresses the shortcomings mentioned above. It points out activities to tackle economical and societal challenges, although they might not differ much from plans of other nations.
A very important part, however, concerns a distinctive Japanese problem – the lack of internationalization. The plan states, that Japanese Science, Technology and Innovation (STI) activity is "often domestically oriented and is thus unable to explore its full potential." However, as the goal is to become "the most innovation-friendly country in the world," it concludes that this will be achieved by competing and collaborating in international open innovation systems (page 8).
Reporting on the current Basic Plan
, the
Council of Science, Technology and Innovation
identifies four principles for the future development postulated by the plan:
Create New Value for the Development of Future Industry and Social Transformation: The focus lies on how to achieve the super smart society (Society 5.0), which enables knowledge to be created and spread vastly
Addressing Economic and Social Challenges: Addressed are needs of the Japanese and the global societies, like energy, resources, food, aging society, and sustainability
Reinforcing the "Fundamentals" for STI (Science, Technology, Innovation): Addressed are the weaknesses, such as prospects for young researchers, education, promoting academic and basic research with a special focus to internationalization
Systemic Virtuous Cycle of Human Resources, Knowledge and Capital for Innovation: Promoted is open innovation with an exchange between all sectors, a basis for its success is international collaboration
By formulating these goals, which are supported by the ministries, the Japanese universities and research institutes will follow this path and push for more international partnerships.
Conclusions
As already discussed, statements in the Science and Technology Basic Plan have a strong impact on the science landscape. We can expect that these topics become more aware throughout all stakeholder groups and that Japan will change accordingly. But it will take time to correspondingly promote, motivate and re-educate.
By the way, further anecdotal proof of this direction being actually taken is my own employment promoting international collaborations at the National Institute for Advanced Industrial Science and Technology (AIST).
The need for Japan to internationalize is not new, but so are the shortcomings. This time, the nation has to do much better to not loose out in the global S&T community.