Small and Medium Enterprises form the backbone of Japan's economy. They employ the majority of people and account for a large share of the country's economic power. Yet as the aging population of business owners increases, hundreds of thousands of SMEs in Japan are about to face the time when they must hand over their businesses to the next generation.
At the same time, 60 percent of over 300,000 SME owners who will turn 70 years old in the coming five years say that their successors have not been determined yet. Even for business owners in their 70s, merely half of them say that they have started preparation for their business succession. And, as the number of aging business owners increases,  performance of their companies is more likely to suffer.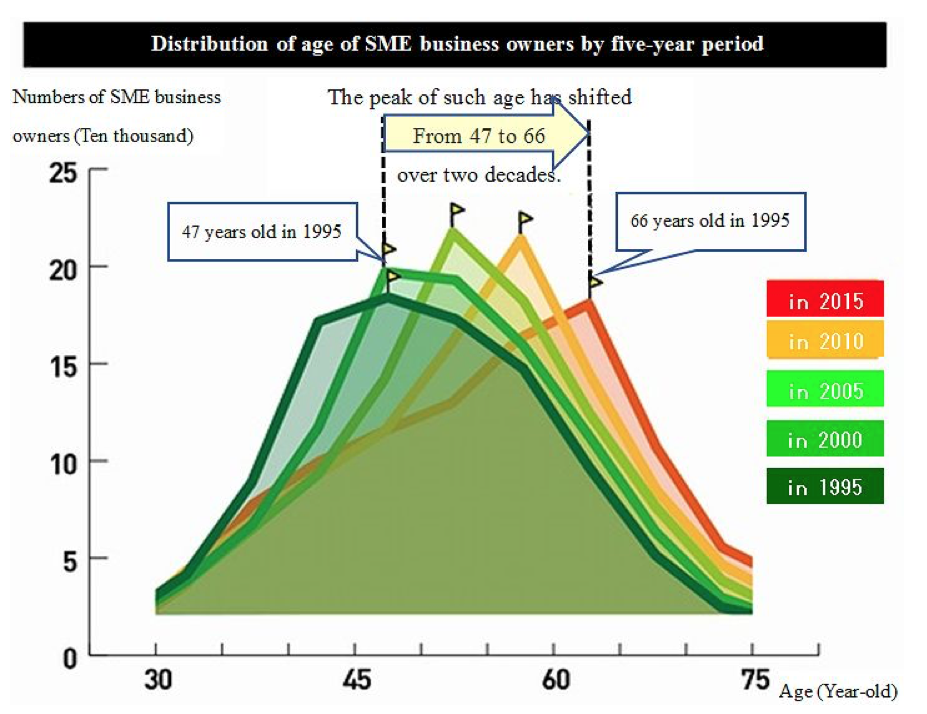 Chart: METI
In this light, the Japanese Small and Medium Enterprise Agency (SMEA) considers it important to support business owners in securely passing over their regional-based businesses to the next generation and has formulated a Five-Year Plan for Business Succession.
The agency strives to develop an environment in which successors of such businesses are encouraged to proactively embark on management innovations and other challenging initiatives, for example shifting the existing business style into a more venture-business style through business succession.
Summary of the Five-Year Plan for Business Succession
The SMEA has set the period of five years as a term in which Japan should intensively support SMEs in their succession efforts, and it will dramatically fortify support frameworks and measures from the standpoints below.
1. Encouraging SME business owners to raise awareness of business succession
The SMEA will establish a business-succession platform on which supporting organizations are connected to each other and will provide push-type support measures, for example diagnoses for business succession, thereby discovering SME business owners' needs for business succession.
2. Developing an environment that motivates the next generations to succeed in business
The SMEA will support SMEs in improving management from the early phase of business succession, for example financing and profit control. In addition, it will also enhance incentive measures for early business succession and support SMEs in embarking on challenging efforts, for example rationalization of management and shifting of business models, by business successors and business owners.
3. Fortifying support measures for business matching between SME business owners and candidates of their successors
The SMEA will fortify the current system of the Business Succession Support Center and collaborate with the private sector, thereby developing a market for small-scale merger and acquisition of businesses.
4. Developing an environment in which businesses are able to smoothly close their business or complete business mergers
The SMEA will promote business succession, restructuring and mergers for supply chains or regional areas, and will encourage SMEs to enhance management ability.
5. Utilizing management human resources
The SMEA will develop an environment in which SMEs are able to smoothly utilize external, highly-skilled human resources in the field of management as candidate next business owners or advisors.