Critics disagree if the Japanese government's Abenomics initiative has been successful so far, or will be in the future. Yet the number of bankruptcy cases filed with court has decreased steadily since 2010, showing a remarkable decline since the initiative's launch three years ago. In fact, the number of cases filed in May this year was the lowest figure since 1990, which still fell into the period before Japan's Bubble Economy collapsed in 1991.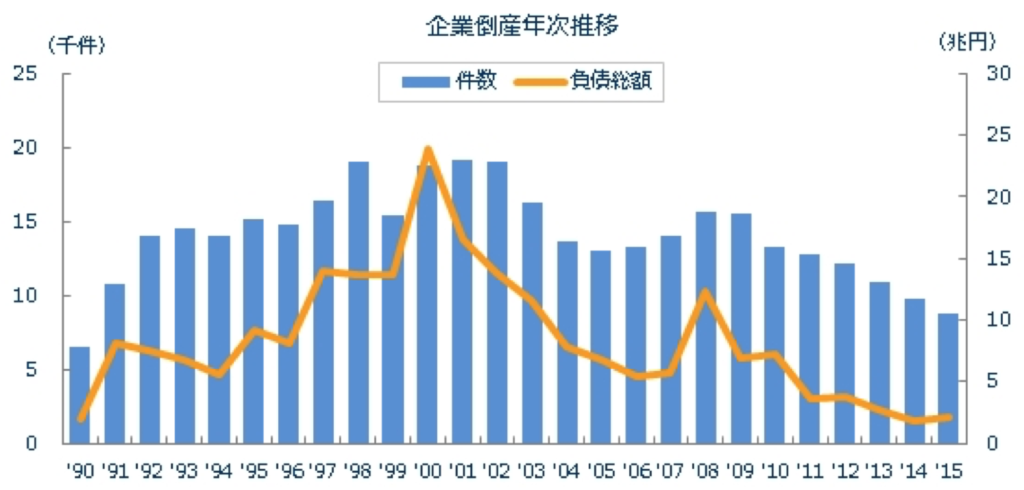 Blue bars show the number of insolvency procedures filed with court (the left scale in thousands unit). The yellow line shows the total amount of debt (the right scale in trillion yen unit). Chart via Tokyo Shoko Research Ltd.

At the same time, according to Tokyo Shoko Research, the number of small and midsized enterprises that go out of business without using court procedure remains high since the Lehman Shock, as the global financial crisis of 2008-09 is commonly known in Japan. At 26,699 cases in 2015, it was three times as high as for those filed with court.
This suggests that the situation may not be as clear-cut as initial statistics imply. So let's have a closer look at what lies below.
Types of Insolvency Court Procedure in Japan
If you choose to go bankrupt or revive your business, you first will have to make a decision either to file with court or go with out-of-court procedures.
The biggest advantage of out-of-court procedures is flexibility, however it basically requires consent of all creditors during the procedure.
When filing with court, there are three types: (a) Bankruptcy, (b) Civil Rehabilitation, and (c) Corporation Reorganization.
The latter two are of revitalization type. One difference is that under Civil Rehabilitation, the existing management team may continue to be in charge and lead prompt restructuring. Under Corporation Reorganization on the other hand, the management shall step down and a new management team is brought in.
Another distinction between the two procedures is that while Civil Rehabilitation is designed to have flexibility, Corporation Reorganization requires strictness.
In this sense, a company with a large number of creditors and which failure will have a strong impact on society, will likely choose Corporation Reorganization.
Cost of Filing for Bankruptcy in Japan
Filing for bankruptcy in Japan requires relatively high cost. Quite often, companies cannot file a petition for bankruptcy due to lack of funds. Management sometimes has to race around clients to collect debt in order to secure funds for the petition.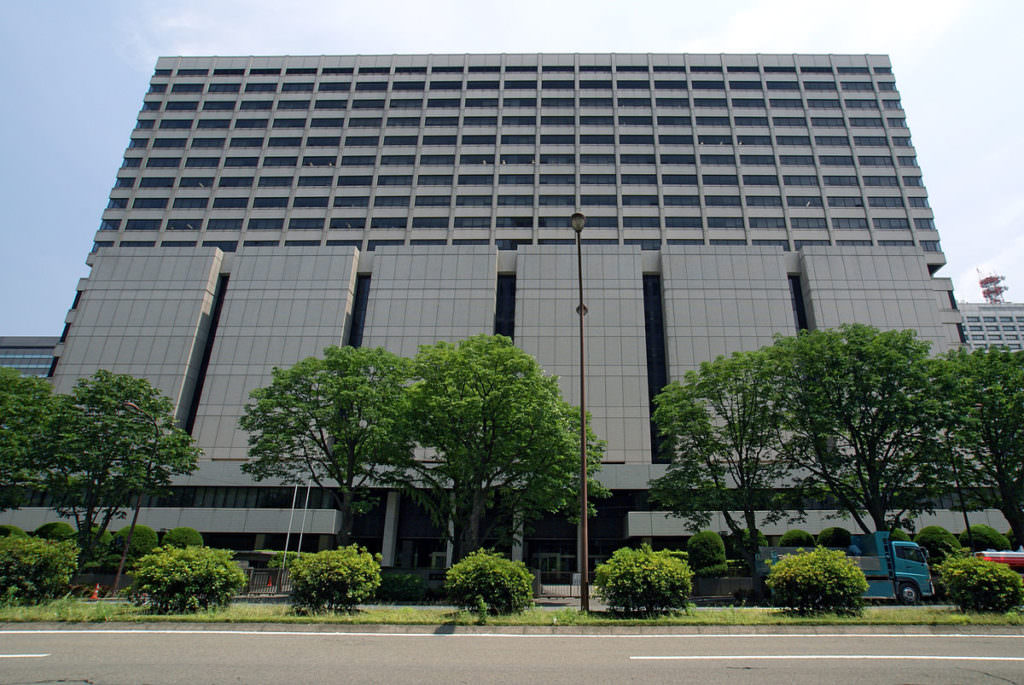 Photo: Tokyo High Court and District Court via Wikipedia
For example, if a company with 70 million yen in debt is filing a petition for bankruptcy with the Tokyo District Court, it is required to pay about 1 million yen as a deposit to the court, which mainly will be used as compensation for trustees. In addition, the company has to pay attorney fees for work on the petition's preparation. The fee depends on the amount of debt, number of creditors and each attorney's fee schedule.
What to Do If Your Business Partners Go Bankrupt?
The main concern upon learning that your business partner will go bankrupt is whether you can collect your outstanding receivables. This thought of course will be shared by other creditors, who will also take steps toward debt collection.
Depending on the situation, there are a few things you should try to secure your receivables. They usually require prompt action and regulations are complicated, so it is worthwhile consulting with bankruptcy lawyers.
Once the petition is filed by a debtor, creditors cannot do anything but follow the legal procedure under court control. They are required to file a proof of claim within a defined period. Then, depending on the case, three months to one year after the filing, creditors will be paid a portion of claims based on the proportion of the amount of their claim to the total.
There is no specific data available, but based on my experience, the average distribution rate under the legal bankruptcy procedure is 1 to 5 percent of the original claim amount. This means, for example, that if the amount of claim is 1 million yen, you will be distributed 10,000 to 50,000 yen.
Bankruptcy Procedure in Japan for Foreign Companies
All companies incorporated in Japan are subject to Japanese bankruptcy laws, regardless of their shareholders' nationality. Foreign companies having business premises in Japan may file a petition for bankruptcy to Japanese courts as well.
Foreign creditors holding receivables against companies who have filed a bankruptcy case in Japan are required to follow Japanese bankruptcy procedures. They have to file proof of claim in Japanese, pursuant to the notice sent by court.
A proof of claim is a simple written format, but if the amount of claim is high or there is any doubt on the existence of the claims, you will be asked for an interview or to submit evidence of claims. In this case, it is better to consult with local attorneys for smooth resolution.